Mobile aplications offer users high-quality services and experiences and provide an excellent way to enhance user satisfaction and value for your clients.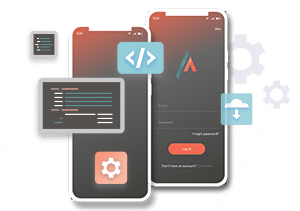 Why you need a mobile application?
Mobile applications have become an increasingly essential aspect of the digital landscape. With the majority of internet traffic being generated by mobile phones, this trend shows no signs of slowing down. According to Statistica, mobile app downloads rose to 218 billion in 2020, reflecting a steady increase over previous years. It is worth noting that the average mobile user typically spends more time on mobile applications than on web browsers. In fact, the daily time spent on mobile devices has reached an impressive average of 132 minutes, while desktop usage lags behind at an average of only 39 minutes per day. Given these trends, staying informed about the latest developments and opportunities within the mobile app space will undoubtedly prove crucial for businesses and developers alike.
At Alto, we are committed to being your valued partner and assisting you in creating a comprehensive and effective marketing strategy. Our goal is to help you improve the quality of your service and increase your business's productivity. We would like to invite you to meet with us and discuss how a mobile app can enhance your business's overall performance. Our team of experts is ready to work with you to develop creative solutions that best meet your unique business needs. So, let's get together and explore the many ways we can help your business achieve success.
Ready to Discuss Your Project?